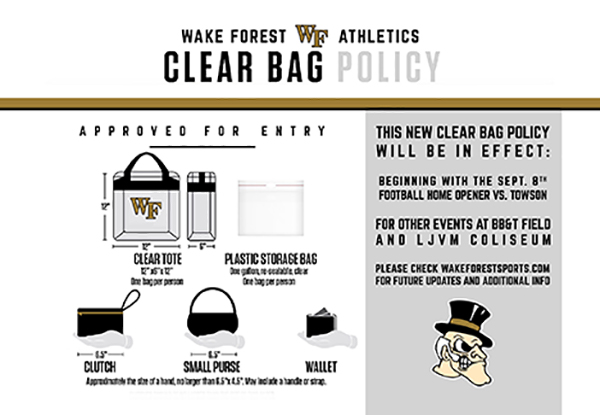 Important Game Day Information
Wake Forest has instituted a clear bag policy for all events going forward at BB&T Field and the LJVM Coliseum. The policy will help enhance existing security measures and ensure a safe environment for all guests while making for a quicker entry into the venues.
Fans will be permitted to enter with a clear bag that does not exceed 12" in height by 6" in depth by 12" in width. A simple one gallon clear plastic bag, such as a Ziploc bag or similar, is acceptable. Clear bags are also available for purchase at deaconshop.com. Fans will be allowed to carry in a small clutch bag, approximately the size of a hand, not to exceed 4.5" by 6.5", with or without a handle or strap.
An exception will be made for medically necessary items after proper inspection at the game.
Does My Student Need a Ticket?
Students are able to swipe into the student section at no charge, but this section isn't open to families. Our recommendation is to buy your student a ticket to guarantee their seat with the family.
Game Tickets
Bleacher-style, or Standard Seating is located on both sides of the stadium and can be purchased with your Family Weekend registration. Please note the Student Section is located on the East side of the stadium.
Members of the Deacon Club, the WFU Athletics Booster organization, are able to purchase seating in the Touchdown Club and McCreary Tower areas of the stadium.
To learn more, contact the Athletic Ticket Office at 336-758-3322 ext. 1.
Need accessible seating? Please contact us and we'll help you with the arrangements.
What if you're not sure how many tickets you'll need? Ordering tickets through the Family Weekend website gives you the ability to edit your order until midnight on October 27 at 11:59 PM . Any seats you purchase before that date will be seated together, according to the date of the first purchase.
Game Time
You'll notice that the start times for game day events are listed as TBD. We generally don't receive the start time of our home football games until TV schedules have been determined, about ten days prior to the game date. As soon as we know, we'll post the time on our website, and quickly update the start times for shuttle transportation and the Game Day Cookout, which begins 2 ½ hours prior to kick-off time.
Game Day Events
Parents often ask us what plans they should make for game day, and what we think their student might prefer to do. That's hard to predict, but we can tell you that the area around BB&T Field will be humming with activity. The student tailgate area is located inside Gate 4 of the stadium and families are welcome, but need a game ticket to enter.
The Family Weekend Game Day Cookout is a great way to get fueled up before the game. This popular event at Couch Baseball Park (located a stone's throw from BB&T Field) will offer an all-you-can-eat menu in a slightly more relaxed setting. A cash bar will be available and the Deacon might even pay us a visit!
Park or Ride?
Getting to the stadium area isn't hard. This page will help you find everything from paid parking lots to the free shuttles that run from campus to the game.
Questions about the football game? Contact our office or the Athletic Ticket Office at 336-758-3322 ext. 1.