Main Content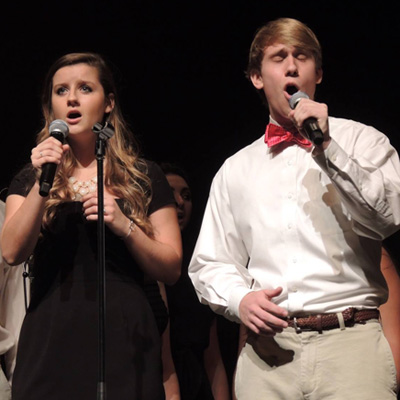 8:00 PM
Wait Chapel
Friday concludes with a cherished event held in Wait Chapel. A variety of talented A Cappella and Choir groups on campus perform samples of some of their greatest songs. Students and parents alike are sure to enjoy this concert and sing-a-long with:
MeloDeacs
The MeloDeacs are a co-ed a cappella group. Service is our forte, but when we're not making major developments in the community, the MeloDeacs get into treble on stage. Hopefully you're sharp enough to pick up on these music puns, but if they fall flat, you'll like our music instead!
Minor Variation
Minor Variation is the all-female Christian a cappella group on campus. Last year we celebrated our 20th year and released our new album "White Flag!" Check it out on Spotify and iTunes and be on the lookout for more info on our upcoming performances!
Plead the Fifth
Plead the Fifth is Wake Forest's contemporary all-male a cappella group founded in 2008. They have recently just recorded two new singles along with a music video which can be found on their Spotify and youtube pages respectively.
Gospel Choir
Gospel choir is a musical group entering it's 45th year here at Wake Forest, that specializes in singing both traditional and contemporary gospel music. Meeting every Wednesday at 7pm in Scales to fellowship with one another through song.
Demon Divas
The Demon Divas are Wake Forest's contemporary all- female a cappella group, check out their new album "Beat of my Heart" on iTunes and Spotify!
Chi Rho
Chi Rho is in its 27th year as Wake Forest's all-male Christian a cappella group. Check them out on iTunes and Spotify, and be on the lookout for a new album scheduled for release in April, 2019!
Innuendo
Innuendo is Wake Forest University's first coed acapella group! They are celebrating their 20th Anniversary this semester! Please check out their Facebook page to learn more about their upcoming album and events!