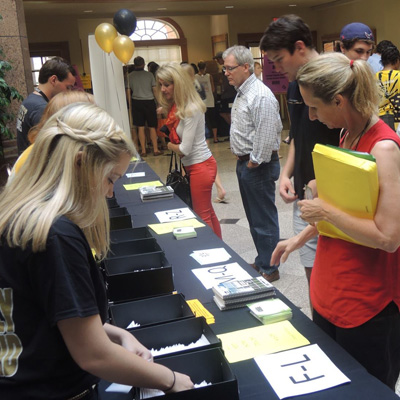 8:30 AM – 12:30 PM
Benson University Center
On Saturday morning, our registration area will be open for families to check in, browse our information and giveaways area, and pick up t-shirts, Sunday Brunch tickets and pre-purchased Orange Lot Parking Passes for the game. Because the game time has been set for 12:20 PM, football tickets and tailgate wristbands will not be available for pickup in this area.
Football Tickets will be available at the Athletic Ticket Office at Bridger Field House, BB&T Field. For more information call 1-888-758-DEAC(3322).
Tailgate Wristbands will be available at the Tailgate entrance at David F. Couch Ballpark.
Orange Lot Parking Passes purchased through our website will be held at the Benson Center until 12:30 PM.
To pickup, remember to bring your email confirmation, either printed or on a mobile device. Students may pick up prepaid items for their families with WFU student ID and a copy of the confirmation. Please visit the registration table if you have any questions/concerns – we are here to make sure you have a great weekend!